L'ouvrage A Semite (A Memoir of Algeria) vient de paraître à New York (Columbia University Press), avec une préface de Judith Butler. Le livre est la traduction anglaise, par Ann et William Smock, de Un sémite (Ed. Circé, 2003).
Sur la photo de couverture, prise probablement en 1937, les deux personnes vêtues de blanc sont Aldebert René Guenoun (1912-1977) et son épouse Yvonne Emilie née Bensaïd (1911-1982), mes parents.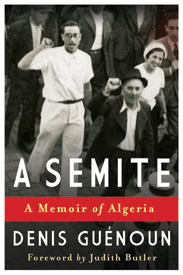 Voici l'information publiée par l'éditeur  (http://cup.columbia.edu/book/978-0-231-16402-3/a-semite)
A Semite: A Memoir of Algeria
May, 2014
Cloth, 176 pages, 2
ISBN: 978-0-231-16402-3
$35.00 / £24.00
In this vivid memoir, Denis Guénoun excavates his family's past and progressively fills out a portrait of an imposing, enigmatic father. René Guénoun was a teacher and a pioneer, and his secret support for Algerian independence was just one of the many things he did not discuss with his teenaged son. To be Algerian, pro-independence, a French citizen, a Jew, and a Communist were not, to René's mind, dissonant allegiances. He believed Jews and Arabs were bound by an authentic fraternity and could only realize a free future together.
René Guénoun called himself a Semite, a word that he felt united Jewish and Arab worlds and best reflected a shared origin. He also believed that Algerians had the same political rights as Frenchmen. Although his Jewish family was rooted in Algeria, he inherited French citizenship and revered the principles of the French Revolution. He taught science in a French lycée in Oran and belonged to the French Communist Party. His steadfast belief in liberty, equality, and fraternity led him into trouble, including prison and exile, yet his failures as an activist never shook his faith in a rational, generous future.
René Guénoun was drafted to defend Vichy France's colonies in the Middle East during World War II. At the same time, Vichy barred him and his wife from teaching because they were Jewish. When the British conquered Syria, he was sent home to Oran, and in 1943, after the Allies captured Algeria, he joined the Free French Army and fought in Europe. After the war, both parents did their best to reconcile militant unionism and clandestine party activity with the demands of work and family. The Guénouns had little interest in Israel and considered themselves at home in Algeria; yet because he supported Algerian independence, René Guénoun outraged his French neighbors and was expelled from Algeria by the French paramilitary Organisation Armée Secrète. He spent his final years in Marseille. Gracefully weaving together youthful memories with research into his father's life and times, Denis Guénoun re-creates an Algerian past that proved lovely, intellectually provocative, and dangerous.
About the Author
Denis Guénoun is professor emeritus of French literature at the Université Paris-Sorbonne (Paris-IV). A playwright and essayist, he has published numerous books on theater and philosophy, including Actions et acteurs, Livraison et délivrance, and Hypothèses sur l'Europe, which has been published in English as About Europe: Philosophical Hypotheses.
Judith Butler is Maxine Elliot Professor in the Departments of Rhetoric and Comparative Literature and the codirector of the Program of Critical Theory at the University of California, Berkeley.
Ann Smock is professor emeritus of French at the University of California, Berkeley. She has translated two books by Maurice Blanchot and a memoir by Sarah Kofman. Her own most recent work is What Is There to Say?
William Smock, a documentary filmmaker, has translated scholarly articles and a chapter in The Foucault Reader. He is the author/illustrator of The Bauhaus Ideal Then and Now.
http://denisguenoun.org/wp-content/uploads/Logo-5.png
0
0
Denis Guénoun
http://denisguenoun.org/wp-content/uploads/Logo-5.png
Denis Guénoun
2014-05-18 09:07:41
2020-04-12 12:48:05
Un sémite à New York